Digital Orange Fish Painting
digital orange fish painting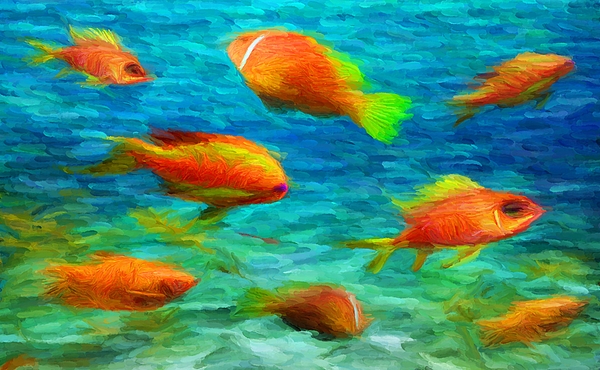 This digital painting artwork was a suggestion received from a couple that thought I might create images for beach houses. Check it out!
Fish play many parts in society, from their economic value in the industry and farming, to recreational fishing, folklore, religion, mythology, art, film, and literature.
Fish have been common topics in art, revealing their economic value, since at least 140 centuries.
They were regularly worked into designs in Ancient Egypt, earning mythological importance in Ancient Greece and Rome, and from there into Christianity as a spiritual icon.
Craftsmen in China and Japan likewise use fish forms as symbols.
Teleosts became popular in Renaissance art, with still life compositions attaining top popularity in the Netherlands in the 17th century.
After the 20th century, many artists like Magritte, Klee, Picasso, and Matisse. Picasso used designs of teleosts to display entirely distinct themes, from beautiful to brutal.
Under The Sea
underwater life
Pixels.com - Fine Art America
April 21st, 2015
1.61:1
20140107
digital art
20cm x 12cm to 183cm x 113cm
$20.35 to $344.91
The biologist and painter Ernst Haeckel designed teleosts and other creatures in his 1904 Kunstformen der Natur. Haeckel was inspired by Goethe and Alexander von Humboldt that accurate depictions of unusual natural forms, like the deep oceans, would help discover their origin and evolution and harness the secrets of their beauty through art.
Fish motives have symbolic meaning in many faiths.
The fish is a representation of Jesus in Christianity. In the Dhamma of Buddhism, the fish symbolizes joy as they have complete freedom of movement in the water.
Frequently drawn in the form of a carp which are considered sacred in the Orient on account to their elegance, dimension, and longevity.
The astrology symbol of Pisces represents a constellation with the same title.
Get you copy: